City of Lights
Whether in the daylight or night time, "this is your tour". A wonderful 15 minute flight circling Anchorage from the mountains to the water. A spectacular sight at night during the winter months.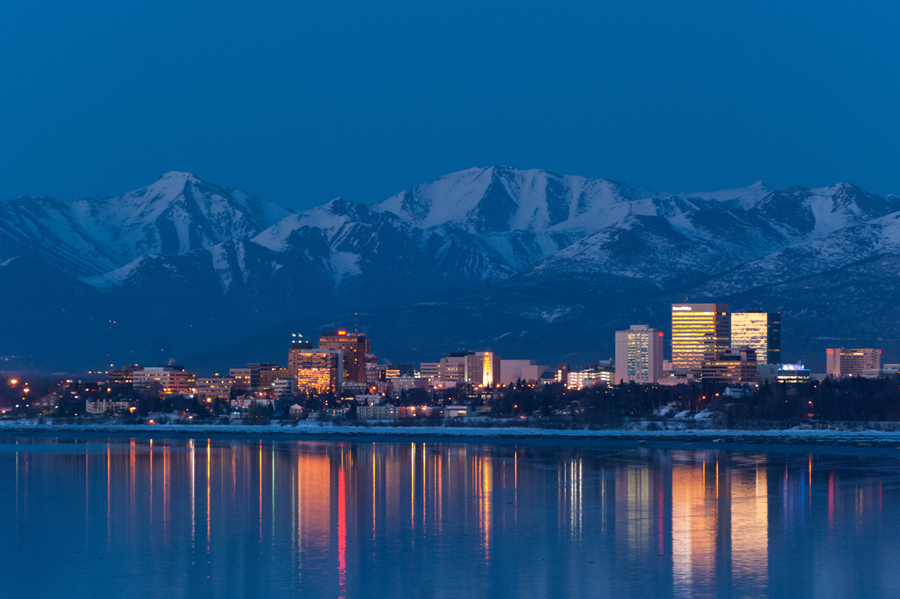 Leaving Merrill Field from the heart of downtown Anchorage, your flight will head east toward the Chugach Mountain Range. These mountains border Anchorage on the east side and create the appearance of a bowl, holding the city against the water; thus the name, the "Anchorage Bowl Area". On your left you will see the expanse of Elmendorf Air Force Base and Ft. Richardson Army base. Turning south you will parallel Muldoon Road and head toward Campbell Airstrip and the Campbell Creek Science Center.
At the Science Center you turn west bound and proceed toward Anchorage's International Airport and Lake Hood. A slight right turn directs you to the larger buildings of downtown, over the Sullivan Sports Arena, Westchester Lagoon, and the outflow of Chester Creek. As you turn back toward Merrill Field you have a "landing view" of the largest small airplane airport in the country. During the dark winter nights, it is a very popular option as you see Anchorage light up the Inlet!